Sustainable Gift Giving Guide
Christmas is fast approaching and whilst giving gifts is lovely the pressure to buy, buy, buy, often results in presents being wasted. In fact, the GWP has revealed that £42m worth of unwanted Christmas gifts are sent to landfill each year!
That is why we are sharing this sustainable shopping guide with you to help you source the best gifts and help you through that last-minute panic the low-waste way!
It's so easy these days to just pop onto Amazon and get anything and everything. It can feel like a chore researching and shopping around for ethical products but it doesn't have to be that way. There are some great websites out there that make ethical shopping easy! Here are some of our favourites.
Ethical Revolution
Ethical Revolution is a directory of Ethical brands and tools to help live and shop in a more sustainable way. They even have a section showcasing discounts on ethical products. Plus, if it's books that you are looking for they have a great search tool for finding books for sale in places other than on the dreaded Amazon!
Check them out here: https://ethicalrevolution.co.uk/
My Green Pod
My Green Pod is a family-run independent business that offers ethical alternatives to mainstream products and services. They showcase brands that may not be the first to come up in google searches but that provide quality products and services. My Green Pod connects with the business owners personally so you can be sure that there is no greenwashing going on here. And every time you buy a product through their marketplace they plant a tree!
Check them out here: https://www.mygreenpod.com/
Organicom
Organicom is another online marketplace/directory but aimed specifically at zero-waste and low waste products. They have a great beauty and wellness section as well as a dedicated gift section and so many great kids & baby products.
Check them out here: https://organicom.co.uk/
Good Find
Good find describe themselves as an ethical brand directory for 'everything from cribs to coffins'. They really do have it all! They even have a great sustainable gift buying guide organised by price!
Check out their website here: https://www.goodfind.io/
SuperLooper Gift Cards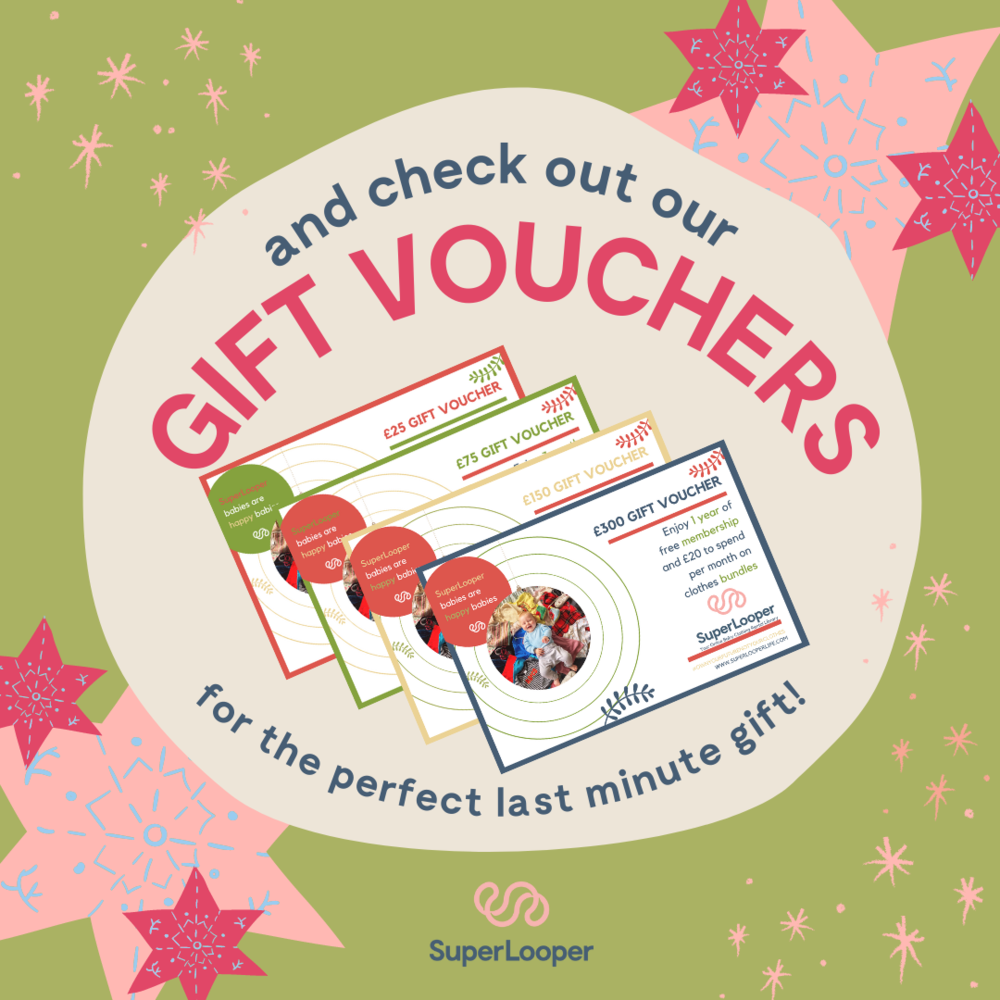 If you are still stuck for ideas why not grab one of our SuperLooper Gift Certificates. They are the perfect gift for parents of young children helping them be sustainable whilst also clothing their little ones in lovely clothes from our library. It is tempting to buy that cute lil' jumper or those sweet dresses but in a couple of months, they won't fit and will end up forgotten or perhaps even unworn in the back of the cupboard. A SuperLooper gift membership allows the receiver to pick out clothes for themselves from our extensive online library to rent for as long as they need when they can then be exchanged for items in the next size or to fit the changing seasons! The vouchers are available in many different values from £25 for a month's membership and rental to £300 for a whole year of beautiful clothes with no waste! It's the perfect last-minute present as you can buy online to be used immediately!
Find out how to buy here.
12 Deals of Christmas
We hope you found our guide helpful. Let us know if we've missed out anything by leaving a comment. For other Christmas gift ideas keep an eye on our Instagram over the next couple of weeks. We will be sharing some of our favourite sustainable brands and products and offering exclusive deals to our followers in the lead-up to Christmas. Don't miss out!